Anadarko Indian Education Program
The Anadarko Indian Education Program provides academic interventions, place-based supports, cultural involvement activities, and partnership-based student projects to meet the unique educational needs of American Indian students.

We provide educational intervention for targeted students through program objectives developed with Parent Committee input and Federal funding guidelines. Program offices and staff are located in each building and serve as the site points for any issue from tutoring to school supplies.

Students must be enrolled with the necessary documents on file in order to receive supplies and other program services. The Title VI Enrollment Form (506) can be downloaded below, completed and sent to our main office or to your child's school. JOM Enrollment requires a copy of your child's CDIB showing they are enrolled in the tribe. Eligible students must be a member of an American Indian Tribe or be at least a one-fourth (1/4) blood descendant of a Federally-Recognized American Indian Tribal member. (PL 99-228). Forms can also be faxed 405-247-6501 For more information contact us at 405-247-2288.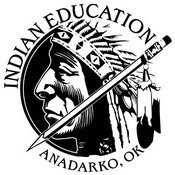 Program Director: David Sullivan

620 College St.
Anadarko, OK 73005

Phone: 405.247.2288
Fax: 405.247.6501

Email: dsullivan@apswarriors.com
2023-2024 Indian Education Committee Meetings
All IEC Meetings begin at 5:30 pm in the Indian Education Center unless posted otherwise or changes are needed due to unforeseen circumstances. Join us if you are interested in learning more about program activities or call us at 405-247-2288.
11/13/23
12/11/23
1/8/24
2/12/24
3/11/24
4/8/24
5/6/24
If you have any questions or for updated meeting information feel free to email dsullivan@apswarriors.com.