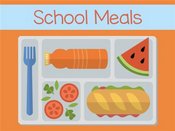 Thumbnail
Anadarko Parents,

I wanted to take this opportunity to share with you our plans for feeding our students during the next two
weeks in which school is not in session. Breakfast and Lunch will be served Monday March 23rd - Friday March 27 and Monday March 30th.- Friday April 3rd. Meals are free to any child 18 and under regardless of meal status or where they attend school. Child must be present to pick up the meal.

We will be delivering Breakfast and Lunch (Grab and Go) to 16 different sites in Anadarko. Please look
at the list below to determine the most convenient site for your children. Our Breakfast and Lunch deliveries will be made together at the same time. Non-Bold Sites will be at 8:30am and Bold Sites will be at 9:00am.
Breakfast and Lunch (Grab and Go) can also be picked up at Anadarko High School Cafeteria at 8:30.
Anadarko Housing/Thunderbird - E Louisiana Dr. and SE 5th - 8:30
Christ Gospel Church - 416 E Kentucky Avenue - 9:00
Kiowa Housing Authority - Sunrise St and E Central Blvd - 8:30
Apache Housing Authority - N Country Club Rd./American St - 9:00
Iscani Wichita Housing Authority - 1 East Coronado Circle - 8:30
Wichita Housing /Playground - Lavaughn Lane and Lena Lane - 9:00
Sunset Elementary - 508 SW7th - 8:30
Assembly of God - 216 W Alabama Av and SW 3rd - 9:00
Prairie Village - Prairie Village and Nixon Drive - 8:30
Grace Fellowship - 301 W Kansas Av - 9:00
Village Apartments - N Country Club Road and Watson- 8:30
East Elementary - 107 SE 5th - 9:00
Oklahoma Street Gym - SW 5th St and W Broadway St - 8:30
Southern Hills - HWY 8 and Wood Lane Dr. - 9:00
Hog Creek/Ware's Chapel - 8:20
Washita Community - Washita Circle - 8:30
Square Top/ Wichita Housing - Square Top Rd and Wichita Dr. - 9:00

Please be patient as we know the first day may be a bit hectic but be assured that we are going to work diligently to serve all of our students. Should you have any further questions do not hesitate to call my cell at 918-916-6629.
Thank you,
Jerry McCormick